Tour de Yorkshire trophies visit Campsmount Academy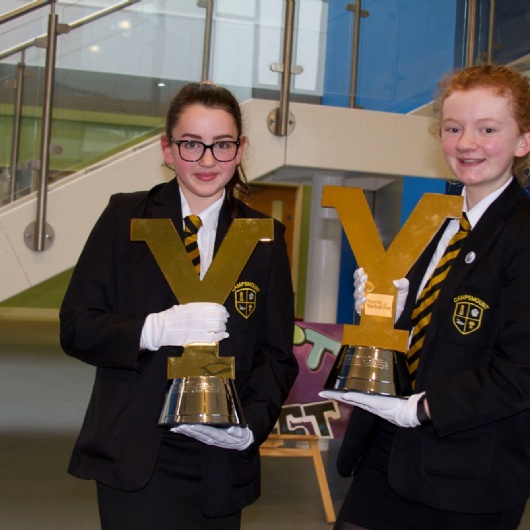 The men and women's Tour de Yorkshire cycling Trophies visited Campsmount on Friday 1st March as part of a series of visits to local schools aimed at creating enthusiasm for the full event, which starts on Thursday 2nd May.
Welcome to Yorkshire trophy custodian Alan Rowley brought the eye catching 'Y' shaped cycle race prizes to Campsmount. He spent time with students and spoke about the Tour de Yorkshire, which is one of the biggest and most prestigious cycling races in the world. Some of our students and staff were lucky enough to hold the trophies and pose for photographs, taking great care as they held the iconic trophies.
The event is due to pass Campsmount in early May so students have been creating Tour de Yorkshire bunting, eye catching tshirts and have even been painting old bikes, all of which will be used to decorate the school gates. Mrs Phillips, Technology Teacher said "The year 9 Art and Engineering students have done an amazing job creating a window display for the tour of the TDY trophies, they worked a s a team to create bunting and T-shirts to be used on the day to cheer on the cyclists!"
The main race will leave Doncaster, at Norton to travel through much of East Yorkshire finishing in Selby, followed by three more racing days in Yorkshire. Rob Watkinson, Sports Centre Manager at Campsmount and member of Doncaster Wheelers Cycling club said "The TDY coming past Campsmount is a great opportunity for students to experience the excitement of top level bike racing on their doorstep. I love cycling and racing for many reasons. It's the escapism it provides, the challenge of building your fitness to high levels and the buzz of bunch riding and racing".
For more information on the TDY route please visit www.doncaster.gov.uk/TDY